Best Medical Software For Doctors To Manage Practice
Gone are the days when records, especially patient medical records, were kept in writing. It's 2020, and everything is stored online these days. Today almost every medical clinic, facility or hospital uses medical software to manage their patient's records.
Not only the doctors and medical staff can manage the patient's records, but this software also allows them to track the inventory, receipts, invoices and many other things. In simple words, clinic management software makes the life of doctors less hectic and more efficient.
With the compilation of large amounts of data, electronic medical management software is no longer a luxury, but a necessity, more like an investment for the medical staff.
If you are looking for the best software for doctors and medical staff then you have landed on the right page. Here are the 6 best medical management software that is worth trying:
MacPractice:
If you are looking for an intuitive, easy to use and comprehensive clinic software then MacPractice is definitely one of the best options. This software allows managing the prescription and medical records of the patients without any hassle.
Its electronic health record (EHR) system is efficient and fast. Furthermore, it also allows the user to keep track of the inventory. MacPractice is definitely a software that increases the workflow optimization of the users.
CliniGro: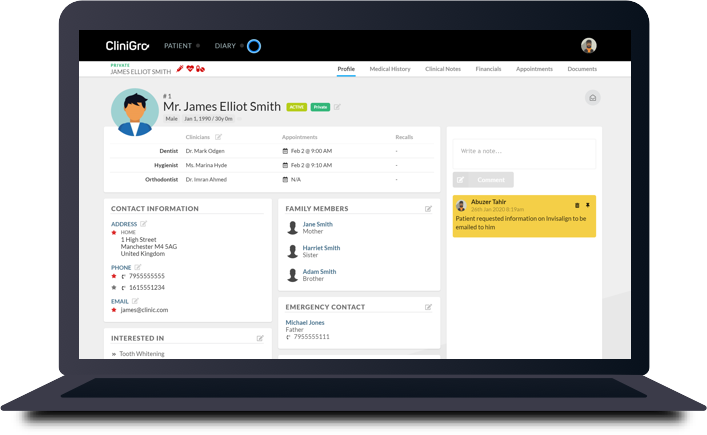 CliniGro is an easy-to-use, efficient and smart clinic software that can automate your marketing and grow your business at the same time. The tool helps to track the patient/client records, configure commonly used clinical notes and treatment duration from system settings to save time. The software also allows to follow the work progress when it comes to tasks.
The other features include the reminders, finances, medical history, diary system, business reports and the complete end-to-end support device.
Prescription Pad:
Prescription Pad is one of the most efficient and user-friendly software for medical clinics. It provides multiple functions and tools, including prescription modification, generating new prescriptions, using previous and existing records to select brands and drugs, and tracking all records.
In addition to all these features, Prescription Pad also provides its users with customized features so that doctors can modify the software settings according to their personal preferences
Visual Doctor:
Visual Doctor is one of a kind software that is made for individual doctors, groups of doctors or clinics/hospitals. It is an efficient clinic management system that allows 24/7 access to the patient's records.
In addition to medical records, the software also allows doctors or clinic staff to manage OPD bills, inventory and appointment management, and patient registration. This software is undoubtedly an all-in-one solution for clinical records management.
EHR Your Way:
EHR Your Way is another medical practice management software that is founded by the two doctors to help all the physicians, medical facilities, clinics, and hospitals to manage their patient's records, efficiently without any risk of losing the record.
The software provides an online portal to save all records and allows 24/7 access to patient records, including diagnosis, prescriptions, next appointments, etc. EHRYourWay's intuitive, easy-to-use interface provides more organized management.
Sevocity:
 The last medical software to manage the clinic records, inventory and patient's history is the Sevocity. It is an economical, easy-to-use, comprehensive and intuitive electronic health record (EHR) system.
The physicians can easily manage, store and access their patient's records using this software. Not only this, with this software clinic inventory management, invoice & receipt generation, as well as the appointment scheduling, has become quite easy.